Kawasaki Early Bird Promotion 23/24
Vouchers for early-bird shoppers until 4 March 2024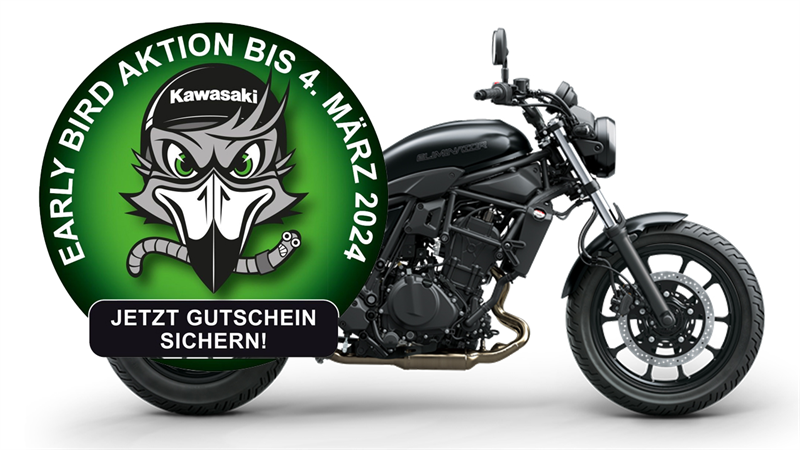 Photos: Kawasaki
Start early, get more!
The early-bird promotion has a long tradition at Kawasaki. From now on, Kawasaki dealers are once again inviting you to benefit from the purchase of a new and immediately available Kawasaki road bike until March 4, 2024.
Buyers of a motorcycle up to 500 cm3 will receive a voucher of €150 and when buying a motorcycle over 500 cm3, the voucher amount will increase to €250. The vouchers can be redeemed for items from the original range of accessories or can be counted towards the cost of the inspection.

The early bird catches the worm. Kawasaki has applied this motto to its early bird promotion. This is also evident in the visual for this offer. However, there is news in this early-bird season. Previously, buyers were able to secure a two-year warranty extension free of charge if they made an early decision. This 4-year warranty is now included with every new road bike at Kawasaki.
Therefore, buyers who decide in the next few months will now receive a voucher (displacement up to 500 cm3 = 150 €; over 500 cm3 = 250 €). The vouchers can be redeemed at the Kawasaki dealership for original Kawasaki accessories or at inspections of the motorcycle until 31.12.2024.

The Early Bird Terms and Conditions in a nutshell: Early Bird promotion period until 04/03/2024 for all new and immediately available Kawasaki road motorcycles. The voucher amount for motorcycles up to 500 cm3 is 150 €, for motorcycles over 500 cm3 it is 250 €. Redeemable for items from the Kawasaki Genuine Accessories range or for the offsetting of inspection costs. Each voucher is valid until 31.12.2024. Only at participating Kawasaki dealers. It is not possible to accumulate actions.