One week - two events
- Honda kicks off the 2020 two-wheeled season with Adventure Week and Roadshow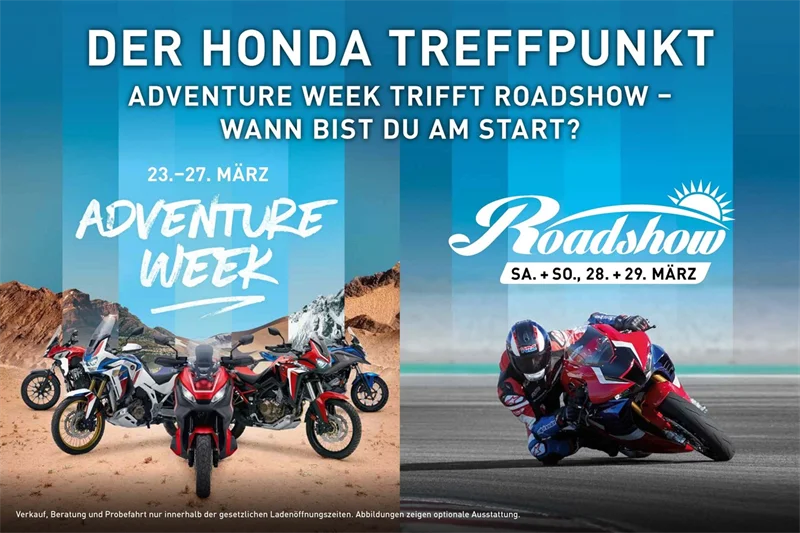 Photo: Honda

The start of the big week of action will be Adventure Week from 23 to 27 March 2020. On these days, a particularly attractive bonus awaits the riders of motorcycles of this category: All adventurers looking for an upgrade get a whopping 20 percent discount on original Honda accessory packs* during the promotional days. Example: The electronic package for the CRF1100L Africa Twin is available during this period for 560.80 euros – a price advantage of as much as 140.20 euros compared to the item purchase**. All adventure fans, but of course also friends of the other motorcycle and scooter genres are right at Honda on March 28th and 29th 2020, because then the big roadshow will be the official start to the season. On these days, in addition to the highly coveted test rides with the brand new models as well as the well-known bikes and scooters, many special actions are waiting for the visitors on site. Particularly attractive is the big competition***, which offers great prizes:
- 15 x 2 tickets for the IDM final at the Hockenheimring or the ADAC MX Masters in Gaildorf
- 10 x 1 Africa Twin Tent
- 20 x 1 Original Honda T-Shirt
By the way: Honda makes it particularly easy for newcomers to motorcycles this year to make the switch to two wheels. Currently, a hefty bonus of up to ten percent lures you to the purchase price of the first own machine. More information about the "Driving License Grant" promotion, including all conditions of participation, can be found online at https://de.honda.de/specials/mc/fuehrerscheinzuschuss_2020/.
More information can be found on www.honda.de or at the nearest Honda dealer.