Ducati fundraiser comes to an end
The #raceagainstCovid fundraising initiative launched by Ducati at the beginning of May has come to an end and has raised more than 170,000 euros. The donations will be used for rehabilitation programs developed and implemented by the S.Orsola Polyclinic in Bologna for the recovery of patients after covid-19 infection. It is the region in which the factory where Ducati produces has always been located.
The fundraising was opened by the members of the Ducati Board and the employees of Borgo Panigale and the branches worldwide. The original amount collected was doubled by the company and was the starting point for the international fundraising. Many donations from different parts of the world were then added, with the participation of the drivers and the large Ducati family: DOC, dealers, suppliers, partners and enthusiasts, all of which were happy to contribute their part to this important charitable project.
The French artist Jisbar also contributed to the final result by creating and donating a pop art painting entitled "Ducati Mona Lisa". Recently, the painting by Cambi Casa d'Aste was auctioned for the sum of 5,500 euros, which was added to the total proceeds.
The sum raised by #raceagainstCovid is now in the hands of the S. Orsola Polyclinic in Bologna, which will acquire the specific tools for the diagnostic needs of patients undergoing rehabilitation therapy after covid-19 infection. In particular, further ultrasound technologies are implemented to enable the execution of tests that are not stressful or harmful to the patient. Specifically, an internal ultrasound device, a cardiac ultrasound device and six ultrasound devices with a wireless probe are purchased with the funds received.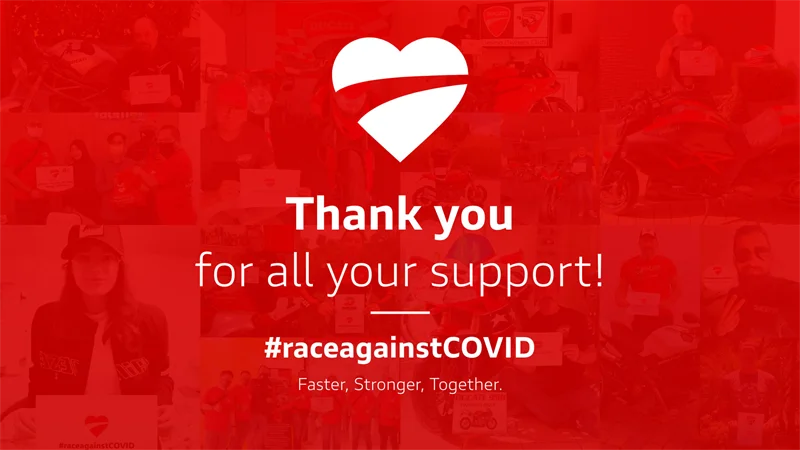 Graphic: Ducati