More safety thanks to ACC
- The new BMW Motorrad Active Cruise Control
Electronic speed control with distance control for maximum comfort and the best possible safety when riding a motorcycle.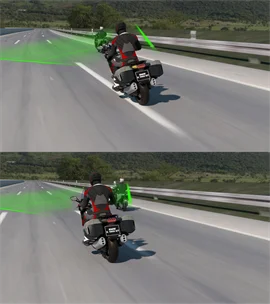 Photo: BMW
Relaxed gliding with automatic speed control, without having to automatically adjust the driving speed to the vehicle in front – already available in the automobile for years, with the motorcycle not yet in series. But bmw Motorrad will soon be offering this type of driver assistance system with the Active Cruise Control (ACC), giving motorcyclists a completely new, comfortable driving experience.
ACC is a novel assistance system and was developed in cooperation with partner Bosch. The many years of experience with car driver assistance systems of both companies could be specifically introduced here and used for use in motorcycles. The new ACC offers maximum comfort for the demanding touring driver by enabling automatic regulation of the driving speed and distance to the vehicle in front of the driver. When reducing the distance to the vehicle in front, the system automatically regulates the driving speed and restores the distance defined by the driver. This distance can be varied in three stages. Both driving speed and distance to the vehicle in front can be conveniently adjusted via a pushbutton. The individual settings are displayed in the TFT instrument combination. The new BMW Motorrad ACC has two selectable characteristics for the control behavior: comfortable or dynamic, whereby acceleration and deceleration are influenced differently. The distance control can also be deactivated so that the Dynamic Cruise Control (DCC) speed control can be used.
When cornering, the speed is automatically reduced by ACC if necessary and a comfortable inclination is sought. However, as the inclination increases, the braking and acceleration dynamics are limited in order to maintain stable driving behaviour and not to unsettle the driver by abrupt braking or acceleration. The BMW Motorrad ACC is a driver assistance system that leaves the driver responsible and gives him the opportunity to intervene himself at all. This is also because the new ACC only responds to moving vehicles. Standing vehicles, such as at a traffic jam or at a traffic light, are not taken into account. Here the driver has to brake himself.