Advent calendar for bikers
- shortens the waiting time until Christmas Eve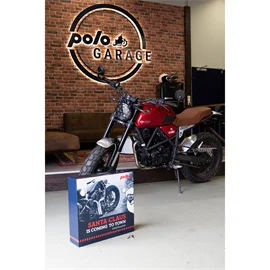 Photos: polo
With this advent calendar for bikers you shorten the waiting time until Christmas Eve. The 24 boxes offer a varied selection of helpful, useful and vouchers – even a raffle with a crisp price is planned!
Of course, this advent calendar is also ideal for giving away, so you can also make others happy. So that the pre-Christmas season becomes something special.



Details:
The goods and vouchers in the advent calendar have the equivalent of more than 130 € (sales price and recommended retail price of the manufacturer).
By purchasing a calendar you have the opportunity to participate in the raffle of a FUEGO Scrambler 125 (ZY125-15A) worth 2,799 €.
Dimensions (approx.):
Width x height x depth: 42.5 x 41.2 x 12.2 cm
Weight: 1.661g
Notes:
The vouchers in the calendar for products that do not fit in the calendar due to their size must be redeemed in a Polo Store of your choice
Limited edition

The advent calendar for bikers is available for
69,99 €
at polo or in the
online shop
.