TÜV in the age of Corona
- Main examination, other technical checks and acceptances possible nationwide without any problems
No restrictions on service and testing: Main examinations, other technical checks and acceptances are possible nationwide without any problems.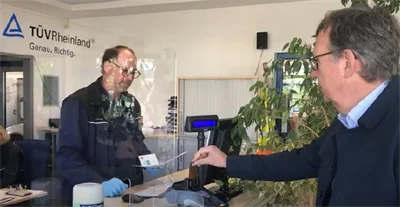 Photo: TÜV Rheinland
TÜV Rheinland conducts more than 2.7 million main examinations (HU) nationwide every year. But is this also true in times of the Corona crisis? Does the TÜV test work safely and without health risks for customers and experts? The simple answer is yes, without restrictions. No matter where in Germany and no matter if car, motorcycle, commercial vehicle, motor home or other motor vehicle: At all 160 service stations of TÜV Rheinland, the procedures for the TÜV checks are now designed in such a way that no customer has to worry. Exactly the same applies to the testing centres of the TÜV Rheinland subsidiary FSP or to the tests carried out by TÜV Rheinland in workshops and car dealerships.

Key rules: Keep distance - avoid contact

In the short video, the experts explain exactly what has changed in the main investigation for customers. Always keep sufficient distance and avoid direct contacts. This is now the top priority, so that everyone feels safe and is safe. This applies, for example, when handing over the vehicle, but also when handing over the necessary documents, checking itself or paying. On top of that, TÜV experts always closely monitor the recommendations and regulations for health protection with regard to the Corona pandemic.

Appointment and all information about the main examination available online
The most important change for many customers at the moment is probably the observation of the technical examination itself: If customers are normally invited to take a direct look at the main examination themselves, this is unfortunately not possible at the moment. Here, too, it is a means to keep a distance. As a rule, however, the HU can be observed, for example, in the waiting area through windows. It goes without saying that test results and possible defects are explained to customers in detail.