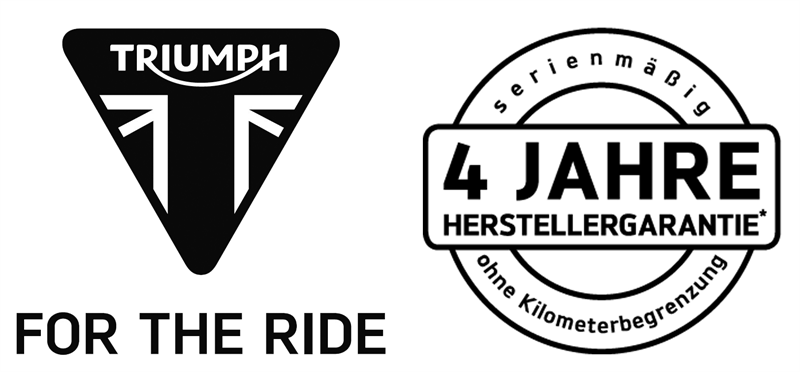 From 01 July 2021, Triumph motorcycles will be subject to a full manufacturer's warranty of four years on each new motorcycle
Triumph is thus the first and currently only motorcycle manufacturer with such a comprehensive warranty regulation.From 01 July 2021, the traditional British brand Triumph will take over the full four-year warranty for new motorcycles in Germany and Austria.
For customers, the new regulation brings additional advantages, because in warranty years three and four, the excess is now omitted, there is a more comprehensive coverage in warranty cases and, in addition, Triumph accessories purchased with the bike now also have the comprehensive new warranty protection. The dealers are also pleased about the change, as they now only have one point of contact for the full term of the warranty - thus a real win-win situation.

Of course, there is still no mileage limit. The four-year manufacturer's warranty according to the current Triumph warranty conditions run from the registration of the new motorcycle and are confirmed by the delivery of a warranty certificate. Since the warranty claim is transferred when the motorcycle is sold, the new owner receives the certificate together with the vehicle documents.
 
Natalie Kavafyan, General Manager at Triumph Motorrad Deutschland:"By extending our extensive manufacturer's warranty to four years, we are further underlining our position as a premium supplier. I would like to take this opportunity to thank CG Car-Garantie Versicherungs-AG for a very successful and cooperative cooperation in recent years."