Travel Time
- Inspiration for motorcyclists
With issue 29, the Travel Time customer magazine enters the 11th year of this success story. For 10 years, the travel stories, news from the adventure and travel scene, background reports about the company Touratech and many details about products and production processes have delighted the customers and readers of this inspiration for motorcycle travellers.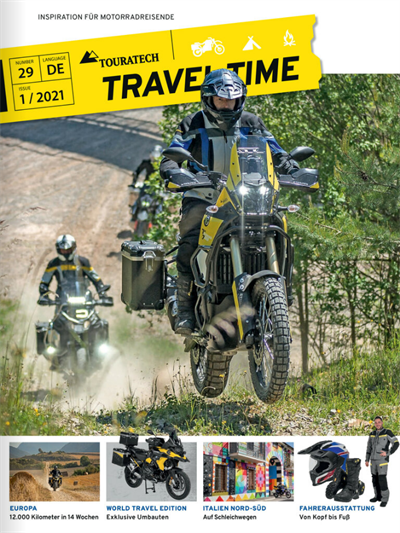 Photo: Touratech
For more than 10 years now, the Travel Time customer magazine has been launching a variety of new stories and product news with issue 29 at the end of January 2021. This German-language edition gives an overview of the news from the market segment and products, at a time when, due to the lack of events and trade fairs, there are few opportunities outside the online world. "With the classic customer magazine, which of course comes on the market as a print version, but is also directly available as an online sheet version, it is possible for us to keep our customers up to date," says Martin Wickert, CMO of Touratech. "The way I have been able to take care of Travel Time with my team for 10 years makes me very proud and happy, because in this industry it is the customer magazine that, to my knowledge, is available for the longest time on the market."
Travel Time magazine has been reporting for years on the travels of Touratech employees, CEOs and founders, but also on countless customers who fulfill their dreams on large and small trips. "What united us all are the wanderlust and longing for the great wide world, the adventures, the unknown. Get to know interesting people, discover new cultures and of course always feel the wind on their faces," says Martin Wickert.
And of course, in addition to the countless customers, we have also had many professional travellers have their say in Travel Time. From KTM professional Joe Pichler, professional photographer Michael Martin, journalist and editor-in-chief Andreas Hülsmann to world travellers such as Simon and Lisa Thomas, Helge Pedersen. Anna Grechishkina up to professional riders like Chris Birch or Dirk von Zitzewitz, all have done their part to ensure that Travel Time magazine is still successful and often even available in several languages.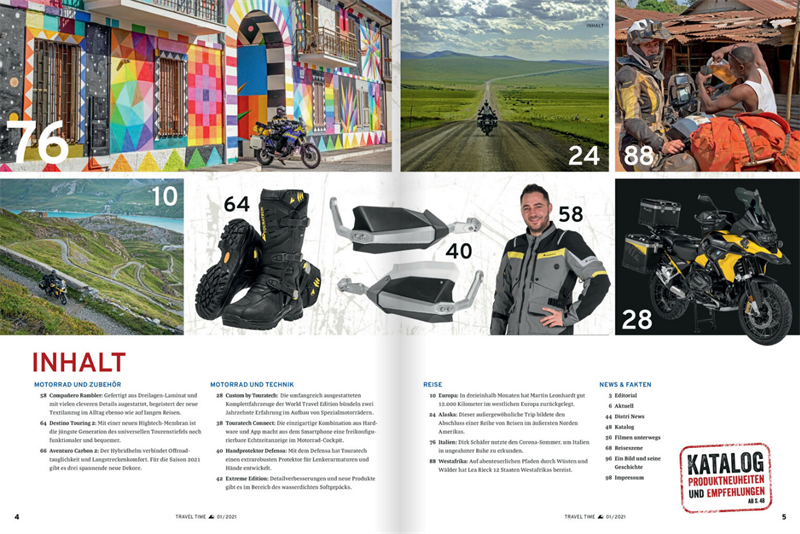 And the journeys continue. As part of the cooperation with the well-known associations Backcountry Discovery Routes in the USA and Adventure Country Tracks e.V. in Germany, Touratech not only supports two organizations that are looking for the last adventure routes in the USA and Europe with a lot of love and passion, scouts, and fight for their preservation, but also ensures with active support that travelers are encouraged and motivated to drive these adventures, which can be experienced for everyone. The film iced documentation as well as the presentation in photo and print has a long tradition at Touratech and this lives on in Travel Time magazine.
So also for 2021 many tours, movies, photo tours, maybe even participation in various rallies are planned to give all motorcycle adventurers enough food and reading material to dream and tangible hints, support and products to prepare their own adventure.
The Travel Time is published 2-3 times a year by Touratech GmbH and has been available online since 2012 at https://www.touratech.de/travel-time.html
The current issue offers a dreamlike mix of different regions of the world with trips in Europe, Alaska, Italy and West Africa. With many new announcements of products and a preview of the 2021 catalogue, it offers exciting insights into what the new season has to offer. .