Fuel prices fall
- by more than eight cents in the course of April
Gasoline on average per month as cheap as last 2009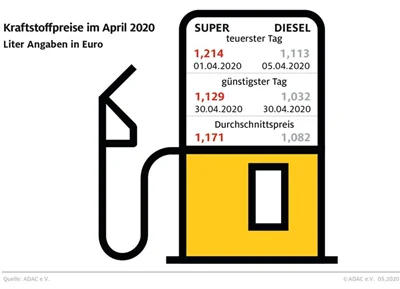 Photo: ADAC
The decline in prices at petrol stations continues: petrol and diesel were again significantly cheaper around April than in the previous month. According to the monthly market analysis of the ADAC, a litre of Super E10 cost 1,171 euros in federal funds, more than 11 cents less than in March. For diesel, the decline was slightly more moderate, at 7.2 cents to 1.082 euros per litre. The last time diesel was cheaper was in 2016. In the case of petrol, it is even more than eleven years ago that one could refuel more cheaply on average than today.
Over the course of the month, the decline is clearly apparent. For example, the most expensive tank day at Super E 10 was April 1, at 1,214 euros per litre. At the end of the month, petrol was the cheapest at 1.129 euros per litre on 30.4.2020. The start of the month was also more expensive for diesel (1,113 Euros/5.4.2020) and the end of 30 April at 1,032 Euros for the litre was the cheapest. Prices fell 8.5 cents for Super E10 and 8.1 cents for diesel.
The ADAC recommends comparing prices despite the low price level before refuelling. Those who take advantage of the sometimes considerable price differences between different filling stations and times of day save money and also strengthen competition between suppliers. According to a recent evaluation of the ADAC, the cheapest fuel ingestable fuel is usually between 6 p.m. and 10 p.m. The smartphone app "ADAC Spritpreis" offers uncomplicated and fast help. Detailed information on the fuel market and current prices can also be found at www.adac.de/tanken.