Series: Legendary Motorcycles. Episode 6: BMW K1
This is supposed to be a BMW?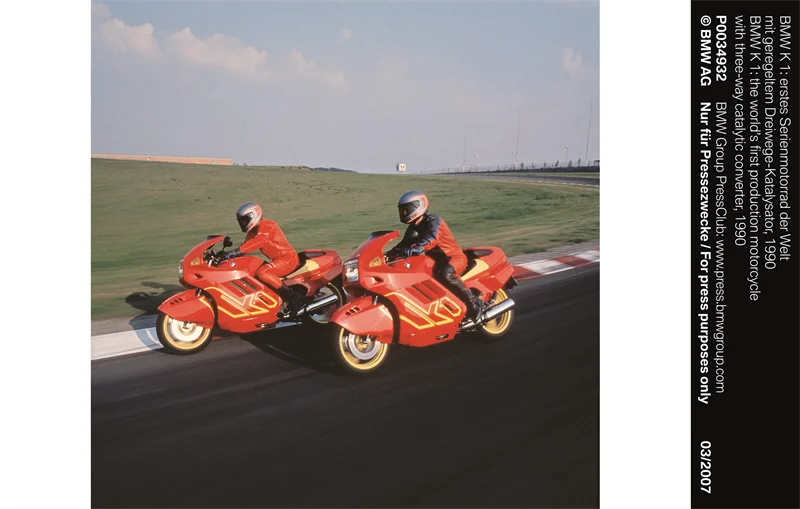 Photo: BMW
BMW owners are generally considered to be somewhat conservative. For decades, BMW therefore offered them single-cylinder or two-cylinder boxer engines in all possible versions. But at some point BMW could no longer look past the trend towards the four-cylinder engine and presented the series of the K 100 in 1983 (which also refers to the entire series, as well as the entry-level model). They had a longitudinal water-cooled 2-valve four-cylinder in-line engine with an initial 90 hp, which was sufficient for a top speed of more than 200 km/h.
In 1988, BMW presented the highlight of the series at IFMA in Cologne, the simply K1-called super sports car with 100 hp and full panelling. It was on this disguise that the spirits divorced. With dedicated cornering and full load, parts of it could grind across the asphalt. Above all, the focus was on optics. BMW had also taken the term full cladding seriously and put almost everything that somehow went under the shell. This went so far that one could only install a special pocket set on the BMW, which fit under the cladding.
In purely logical terms, there was little to suspend, even though some drivers complained about the great heat. The aerodynamically very efficient cladding (cw-value 0.34) from seven parts caused the K1 to storm up to 240 km/h.
However, the BMW was certainly not a super sports car, even though BMW retrofitted with four-valve heads, four-piston brake calipers and paralever system on the rear wheel swingarm. At 258 kilos, she was too heavy and too unwieldy to put serious pressure on the competition.
In the end, the BMW K1 was a flop. BMW built 6921 units, with 2050 units remaining in Germany. BMW ended production in 1993.