New Peugeot Metropolis
- available from September
Revised design and state-of-the-art technology for the Peugeot Motocycles tricycle classic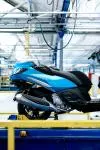 Photos: Peugeot
With a displacement of 400 cc, a TFT display and state-of-the-art technology, fans and new enthusiasts of the three-wheeled Peugeot Metropolis scooter can look forward to the start of sales in September 2020. The scooter pioneer Peugeot Motocycles has started production at its factory in Mandeure, France, and will present the new edition of its flagship in the autumn.



New and striking design
Seven years after its launch, the Peugeot Metropolis will be given a new design in autumn 2020. Through clear lines, the French creative team gives it a striking look and has the design language of Peugeot car models as a model. Stylized claws at the rear and fangs at the front visualizing the lion, the brand's heraldic animal, in the light signature of the vehicle. The new Peugeot Metropolis is based on the Peugeot Metropolis RS Concept, which was presented at EICMA 2019.
Connectivity at the highest level
The connectivity of the new Peugeot Metropolis has been further improved: drivers can access traffic, phone or safety information from their smartphones via the scooter's TFT display in real time via their own app.
On sale from September 2020
The Peugeot Metropolis is a vehicle that combines the agility of a scooter with the stability of a tricycle. Thanks to the power of the 400 cc engine, it brings drivers to their destination quickly. The model complies with the requirements of the Euro 5 Directive. The Peugeot Metropolis can be used with a Class B car driver's license and will be available from Peugeot Motocycles dealers from September 2020. The prize will be announced in the autumn.