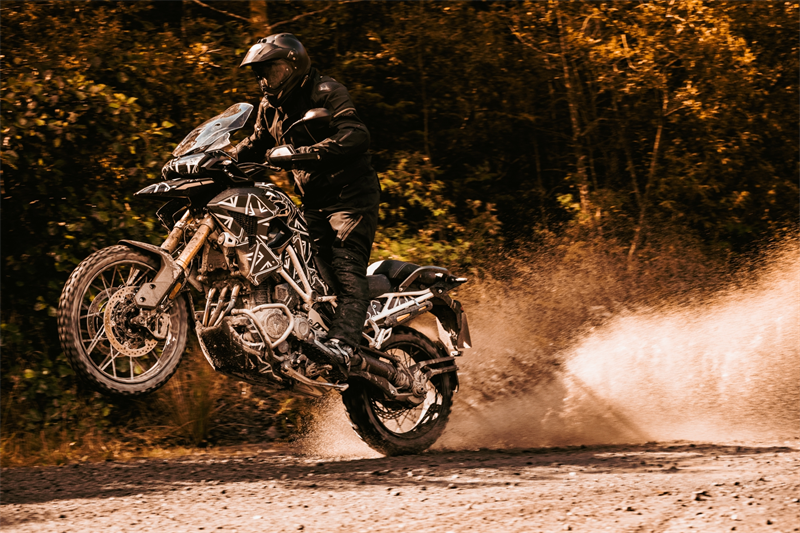 Photos: Triumph (work)
Triumph Tiger 1200 approaching
Man, after Triumph has already brought various updates and new models to the start for 2021, it now continues blow by blow. In addition to the new
Speed Triple 1200 RS
and the Tiger
660 Sport,
there will also be a new Tiger 1200 next year. 
The new large enduro gets the triple of the 1200 RS, which is not surprising. However, the orientation of the engine is likely to be changed strongly in the direction of torque with less maximum power. The most important task in the specifications of the developers was probably the weight - the previous 1200 Tiger is a potent bike, but with 271 kg quite heavy. Triumph announces the new 1200 with the slogan "Lighter than many of its competitors!". Competitors are of course GS & Co., so the target for weight should be about 250 kg.
On the pictures you can see a two-arm swingarm with cardan. A 21-inch model is apparently used as the front wheel, which is probably intended to underline the off-road suitability. However, since only a small percentage of potential buyers are likely to actually be off-road, there will probably also be a version with a 19-inch front wheel. What you can also expect are various updates in the field of electronics: An electronic, semi-active chassis should at least be available as an option, as well as inclination-dependent traction control and ABS and similar helpers, which are now standard in this class. Whether a distance radar will support the Temomaten, however, we do not know yet...