The stage is set for the Speed 400 and Scrambler 400 X

With the Speed 400 and the Scrambler 400 X, two completely new models expand TRIUMPH's model range for the 2024 model year. The brand's successful Modern Classics series with the Speed Twin 900 and 1200 models is enriched by the Speed 400 roadster. The Scrambler 400 X inherits its rugged design features from the Scrambler 900 and 1200, following an off-road pedigree that dates back to the first factory Scramblers of the 1950s.

Designed from the ground up with an all-new single-cylinder engine platform at its core, the two new models offer maximum driving pleasure, agility and confidence for drivers of all ages and experience levels. They combine first-class performance and driver-oriented technology with the best quality and great attention to detail. In addition, there is extensive standard equipment, long service intervals and a comprehensive warranty. As a result, these new models not only score with an unbeatable price-performance ratio, but also bring the unmistakable style, quality and performance of the British brand to a whole new generation of TRIUMPH fans.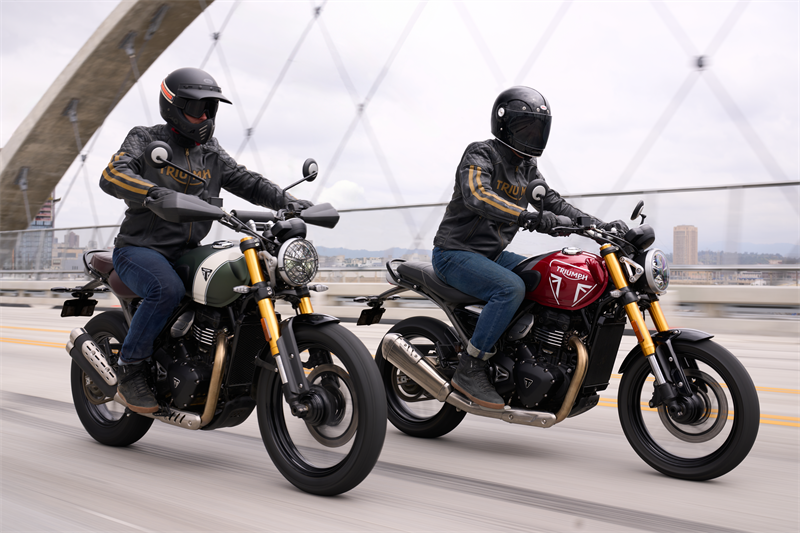 Photos: Triumph
Stylish and dynamic: the new Scrambler 400 X and Speed 400
Cult-like, classic design DNA: The look of the new Speed 400 and Scrambler 400 X
 
The two new additions to TRIUMPH's Modern Classics range were conceived and designed at the brand's main plant in Hinckley in the UK and developed with the same attention to detail as the well-known TRIUMPH models. Thanks to their timeless silhouette, the characteristically shaped fuel tanks and the classic look of the engine, they have a clear brand identity and offer the same quality, the same driving experience and the same appearance as their higher-displacement stablemates.

Traditional elements such as the distinctive, ribbed cylinder head and the exhaust manifolds bolted in the traditional way combine with modern details such as the raised silencer, elegant graphics and technology integrated with a sense of proportion - such as the unobtrusive liquid cooling and the flowing exhaust duct with hidden front silencer. It all adds up to TRIUMPH's unmistakable modern custom style.
 
The first-class workmanship and elegant details can be seen, among other things, in the brand's typical black powder-coated engine housings, the powerful, gold-anodized forks, the high-quality paintwork and the elaborate brand logos - all details that underline the premium claim of the new models. The two-tone paint finishes of the Speed 400 come with a distinctive TRIUMPH tank graphic and reflect the dynamic roadster style. Available are the colors Carnival Red, Caspian Blue and Phantom Black.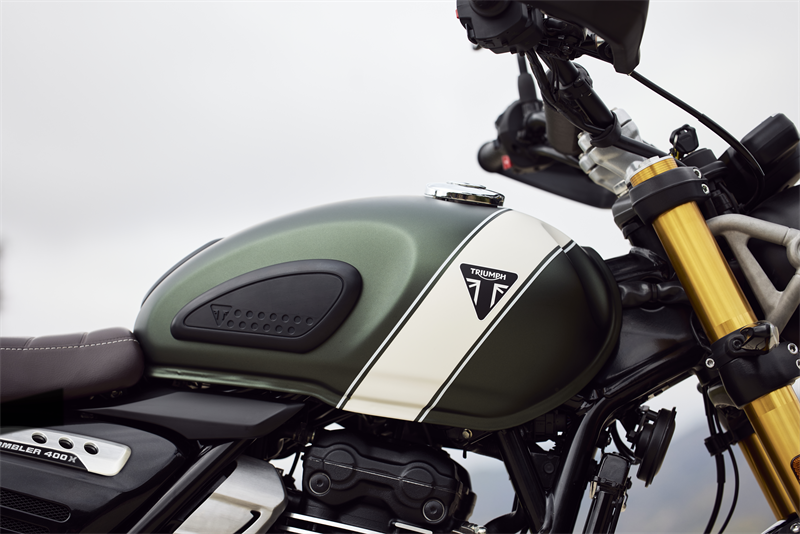 Highest quality and with attention to detail: the tank of the new Scrambler 400 X
 
The all-road attitude of the Scrambler 400 X is underlined by a large number of functional and practical features. Among them are protectors for headlights, radiator and oil pan as well as hand protectors, a handlebar strut with padding and a longer front mudguard. The Scrambler 400 X is available in three stylish and contemporary colour combinations, each featuring the distinctive "Scrambler" stripe and TRIUMPH's triangle emblem on the tank. You can choose between matt khaki green with Fusion White, Carnival Red with Phantom Black and Phantom Black with Silver Ice.
 
Timeless TRIUMPH design DNA with contemporary elegance:
• Timeless lines in TRIUMPH Roadster and Scrambler design
• Characteristically shaped tank with indentations on the knees
• Classic TRIUMPH engine look with triangular badge
• Distinctive ribbed cylinder head and retaining clamps of the exhaust manifolds
• Elegant, upward-pulling silencer
• High-quality materials and workmanship
• Each model is available in three different, model-specific color variants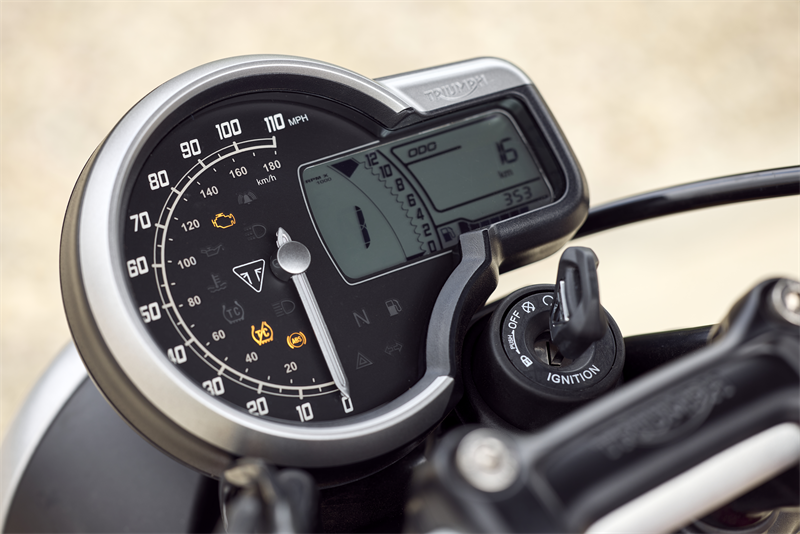 Informative and easy to read: the instrument panel of the Speed 400

THE ALL-NEW ENGINE OF THE TR SERIES

The name pays homage to the brand's historic "Trophy" model range, whose roots go back to the racing singles of the early 20th century and in particular to the off-road competition bikes of the well-known Six Day Trials. The all-new, liquid-cooled, 398cc single-cylinder engine with petrol injection combines TRIUMPH's signature modern-classic style with cutting-edge technology to combine outstanding performance with responsive, fun-driven power delivery. The appropriate soundtrack for this is provided by the rich and unmistakable exhaust sound.
 
Technical highlights include a four-valve DOHC cylinder head and a crankshaft that has been perfectly weighted and balanced to optimize the moment of inertia for good handling at low revs. A lightweight finger follower valve train with low-friction DLC coating also contributes to the performance of this high-revving yet powerful engine. The six-speed gearbox scores with light and precise shifts as well as a perfect gear ratio spread to get the best out of this characterful and high-torque engine.
 
Key features of this all-new engine include:
• Leading 40 hp peak power and 37.5 Nm peak torque
• Liquid-cooled single-cylinder, undercuts Euro 5 emission targets
• Unobtrusively designed liquid cooling and machined cooling fins
• Black powder-coated motor housings
• Powerful and easy to turn
• Rich and distinctive exhaust sound
• Six-speed gearbox

TYPICAL OF TRIUMPH: LIGHT, AGILE AND DYNAMIC HANDLING THAT INSPIRES CONFIDENCE

The ergonomics of the Speed 400 and Scrambler 400 X are designed for optimal comfort and control. The slim waist in combination with the low seat height of 790 mm or 835 mm and the low weight of 170 kg or 179 kg ensures easy handling at low speeds and a secure stand.
 
Both models each have their own model-specific chassis with a new frame, a bolted rear subframe and a cast aluminum swingarm. In conjunction with a chassis set-up tailored to the respective application, this enables the simple, agile and dynamic handling typical of TRIUMPH.
 
The Speed 400 features a powerful 43 mm Big-Piston upside-down front fork and rear suspension with mono shock absorber and external reservoir, lightweight 17-inch wheels, and roadster-specific geometry and wheelbase. This ensures a pleasant and intuitive ride and a comfortable, neutral riding position that gives riders of all sizes and experiences a lot of confidence. Powerful four-piston radial brakes at the front with a 300 mm disc and steel-braided lines provide a first-class braking feel.
 
The Scrambler 400 X has a longer wheelbase, longer travel, a larger 19-inch front wheel and wider handlebars - for more stability and control when riding on loose surfaces, as well as a more upright and confident Scrambler riding position. A larger, sturdier brake pedal and grippier footpegs, positioned lower and wider, allow for a natural position when riding upright off-road. A larger 320mm front brake disc and optimized pads provide reassuringly progressive braking performance in all conditions.

Confidence-inspiring and intuitive driving experience
• Completely new frame with bolted-on rear subframe and cast aluminum swingarm
• Model-specific tuning and geometry of the Speed 400 and Scrambler 400 X
• The slim waist ensures a secure stand and best accessibility
• Comfortable and integrating riding position for the Speed 400 and a more upright and confident riding position for the Scrambler 400 X
• Upside-down Big Piston front fork with 43 mm diameter
• Monoshock rear suspension with external expansion tank
• Optimized for solo and pillion use with adjustable rear suspension preload
• Radial four-piston brake caliper with steel-braided brake lines
• Longer wheelbase and more upright ergonomics of the Scrambler 400 X

STATE-OF-THE-ART, DRIVER-CENTRIC TECHNOLOGY
 
The Speed 400 and Scrambler 400 X feature state-of-the-art technologies tailored to the rider for greater comfort, performance and safety.
 
Ride-by-wire throttle body
The Bosch engine management system with ride-by-wire throttle valve offers a linear and intuitive throttle response with smooth, predictable power delivery for greater ride comfort, safety and control.

Traction control and ABS
Traction control can be easily switched on or off by the driver on both models. Bosch's dual-channel ABS brakes safely and reliably in all conditions and can also be deactivated on the Scrambler 400 X to improve off-road control.

Sleek new dual instruments
The clear and up-to-date dual instruments have a large analogue speedometer and an integrated LCD display with digital rev counter, range and gear indicator, which is easy to read in all lighting conditions.

All these functions are accessed via an intuitive selection button on the handlebars. The display also shows – after their installation – the status of the heated grips available as accessories. A conveniently placed USB-C charging socket allows you to charge handlebar-attached devices such as smartphones and navigation systems.

Torque-assisted clutch
This ingenious system reduces the amount of force required on the clutch lever to reduce fatigue when stopping and starting. In addition, the driver's confidence is strengthened, as it prevents the rear wheel from locking when downshifting.

Full LED lighting
The powerful headlamp is designed for luminosity and presence and features a distinctive daytime running light with TRIUMPH DRL signature. The rear light also offers a modern light signature together with moulded light guides and TRIUMPH branding. Sleek, modern turn signals complete the package.

Factory built-in security
Both the Speed 400 and Scrambler 400 X come standard with a steering wheel lock and immobilizer. The transponder chip integrated into the ignition key ensures that only the owner can start the engine.

Equipment highlights include:
• Best performance and safety thanks to a high level of driver-oriented technology
• Ride-by-wire throttle body for best-in-class rideability, safety and control
• Traction control can be switched off at Speed 400 and Scrambler 400 X
• Dual-channel ABS (can be switched off on the Scrambler 400 X for off-road use)
• Clutch with torque assistance (anti-hopping clutch)
• Stylish new double instruments
• Full LED lighting
•Immobilizer

BUILT TO CUSTOMIZE
More than 25 original accessories are available for the Speed 400 and Scrambler 400 X. From styling and comfort to luggage and safety, both motorcycles can be equipped to meet a wide range of needs.
 
Owners can configure their new motorcycle in the user-friendly online configurator and purchase the original accessories from any TRIUMPH dealer. All original accessories are developed together with the motorcycles. They therefore offer perfect fit and function and are covered by the same four-year warranty with no mileage limit, provided that the accessories are purchased together with the new vehicle.
 
FIRST-CLASS PRICE-PERFORMANCE RATIO
With outstanding performance, the highest quality and low operating costs, these exciting new Modern Classics motorcycles offer first-class value for money. Both the Speed 400 and Scrambler 400 X will be fully competitive in terms of price compared to the main competitors in their respective markets and represent an extremely attractive proposition in terms of both overall value and purchase price.
 
Both models will be launched in India from next month and will be available in all other markets towards the end of the year. The prices for these markets will then be announced.

A lot of motorcycle for the money
• Highly competitive prices
• High performance and best quality
• Groundbreaking maintenance intervals of 16,000 km (or once a year)
• Four-year warranty with no mileage limit
• Sales start for markets outside India is in the fourth quarter of 2023