New at Kawasaki: 4 years warranty
Great added value for Kawasaki customers in Germany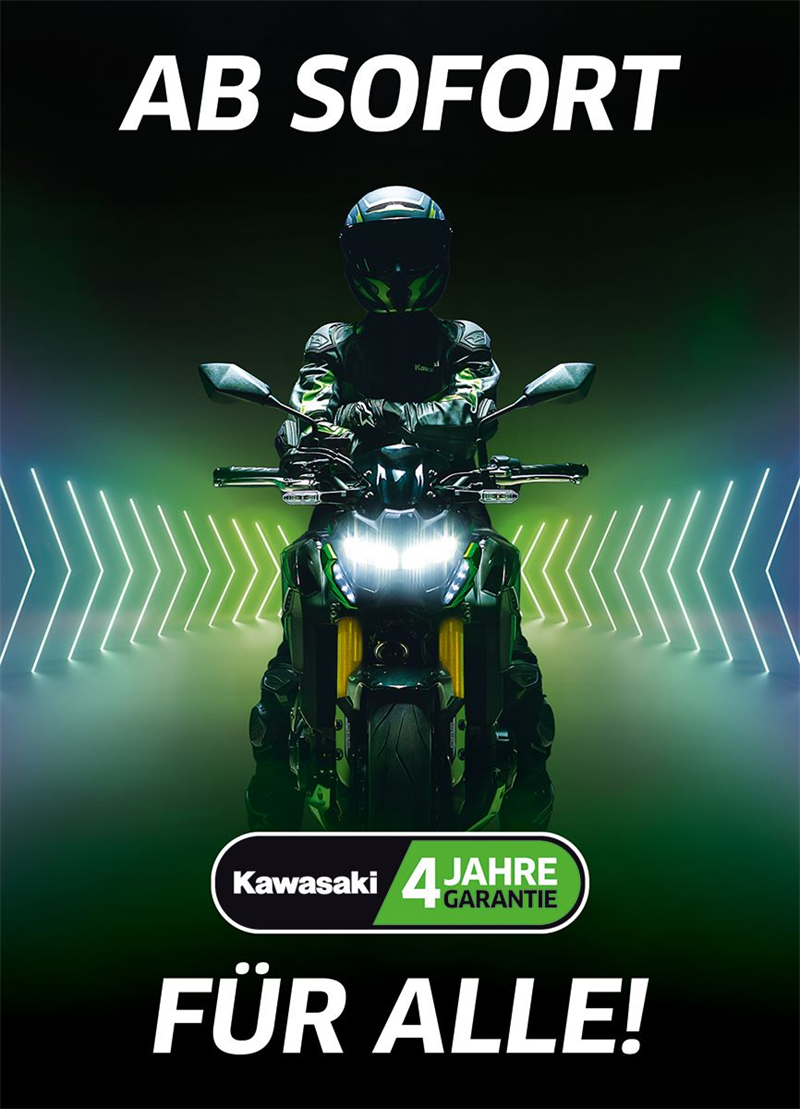 From now on: 4 years warranty for every new motorcycle
From 1 January 2023, Kawasaki will equip every new street-legal motorcycle with a four-year warranty with no mileage limit. This regulation will be implemented free of charge for all customers in Germany. The recommended retail prices remain unaffected.The four-year warranty consists of a two-year factory warranty and a two-year warranty extension from Kawasaki Germany.
The warranty extension thus corresponds to the services previously covered by K-Care GarantiePlus. K-Care GarantiePlus was an additional service from Kawasaki, which is now included free of charge in the 4-year warranty. Every new vehicle from the Z125 to the Ninja H2 SX SE now receives this additional service automatically upon registration in Germany – without mileage limit. The vehicle must have been delivered by Kawasaki Germany to one of its authorized contractors. In order to maintain the warranty claim, regular maintenance work can be carried out at Kawasaki contractors, but also at Kawasaki service partners.
Incidentally, the new warranty services also apply to commercial users of motorcycles as well as, for example, to driving schools. However, motorcycles used for racing purposes are – as before – excluded from both the manufacturer's and the additional warranty. These comprehensive warranties are a significant plus when it comes to the purchase decision. Because with a new motorcycle from Kawasaki you ride carefree for a very long time.
Jürgen Höpker-Seibert, Branch Manager at Kawasaki Germany, is pleased with the new offer: "
This step is of great importance to us. On the one hand, it was important to us that the entire 4-year warranty came directly from Kawasaki. On the other hand, we underline the quality of our motorcycles. In addition to innovative technology and unique design, our bikes also offer extremely high reliability over many years. That's what we stand for with our name and the four-year warranty."