New registrations December 2022
Honda achieves 20% market share in Dec. 2022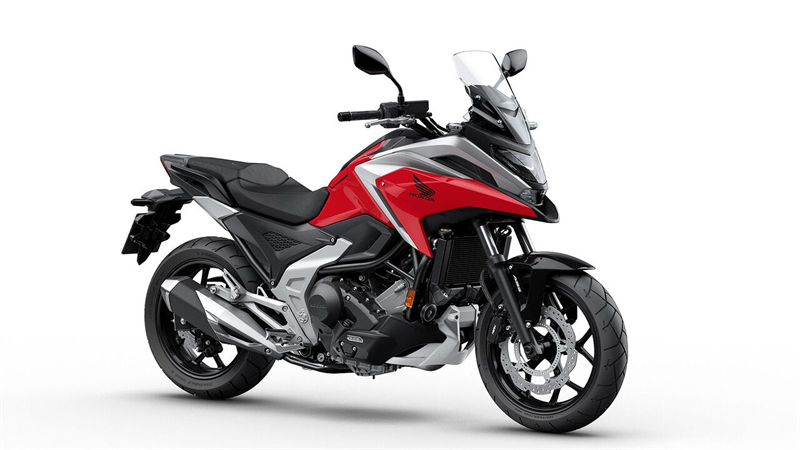 Photo: Honda
Honda with three models in the Top5!
The motorcycle market regularly goes crazy in December. The reason is often one-day registrations, which are made by dealers for various reasons in the old year. Honda's market share in December 2022 was probably a staggering 20 percent.
Overall, December was anything but exhilarating in terms of new motorcycle registrations. The IVM reported only 2,960 new registrations of motorcycles (everything except scooters and 125cc), which means a minus of 19.9 percent compared to December of the previous year. In terms of market share, there is a clear winner in December 2022: 587 Honda bikes were registered this month - an increase of a whopping 83.4 percent compared to Dec. 2021.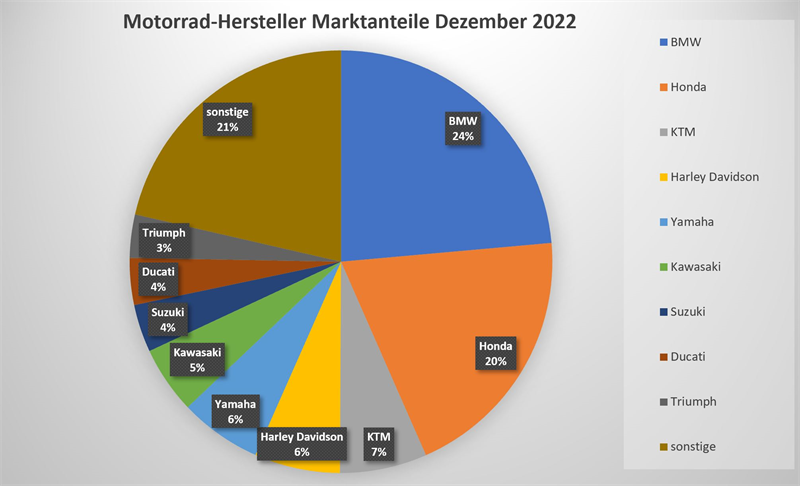 Among the best-selling (or approved - see above) models, three Hondas are among the top 5: The NC 750 X, the CB 1000 R, and the CB 500 F. Among the first eleven machines are even seven models from Honda. This has never happened before, but as I said, this can very well have to do with numerous daily registrations - so the bikes do not have to be sold yet, but can still be found in the figures of the IVM.
Top 50 Motorcycles December 2022
| | | | | |
| --- | --- | --- | --- | --- |
| Rank | Manufacturer | Model | Piece | Share |
| 1 | BMW | R 1250 GS | 313 | 10.57% |
| 2 | Honda | NC 750 X | 123 | 4.16% |
| 3 | Honda | CB 1000 R | 96 | 3.24% |
| 4 | Yamaha | MT-07 | 68 | 2.30% |
| 5 | Honda | CB 500 F | 63 | 2.13% |
| 6 | BMW | F 900 R | 63 | 2.13% |
| 7 | Honda | CBR 650 R | 53 | 1.79% |
| 8 | Honda | CMX 500 REBEL | 51 | 1.72% |
| 9 | Honda | CRF 1100 AFRICA TWIN | 49 | 1.66% |
| 10 | Suzuki | DL 650 V CURRENT | 48 | 1.62% |
| 11 | BMW | R 18 TRANSCONTINENTAL | 43 | 1.45% |
| 12 | Honda | CB 650 R | 40 | 1.35% |
| 13 | Kawasaki | Z 650 | 39 | 1.32% |
| 14 | Beta engine | RR 300 | 37 | 1.25% |
| 15 | Kawasaki | Z 900 | 36 | 1.22% |
| 16 | Husqvarna | 701 SUPERMOTO | 33 | 1.11% |
| 17 | BMW | | 32 | 1.08% |
| 18 | Yamaha | MT-09 | 32 | 1.08% |
| 19 | KTM | EXC 300 | 31 | 1.05% |
| 20 | Horex | VR6 CLASSIC | 30 | 1.01% |
| 21 | KTM | 390 DUKE | 30 | 1.01% |
| 22 | Moto-Guzzi | V100 MANDELLO | 27 | 0.91% |
| 23 | Honda | X-ADV 750 | 24 | 0.81% |
| 24 | BMW | K 1600 GTL | 24 | 0.81% |
| 25 | BMW | F 750 GS | 23 | 0.78% |
| 26 | Yamaha | TÉNÉRÉ 700 | 23 | 0.78% |
| 27 | Yamaha | YZF-R7 | 23 | 0.78% |
| 28 | KTM | 350 EXC-F | 21 | 0.71% |
| 29 | KTM | 690 SMC | 21 | 0.71% |
| 30 | Suzuki | DL 1050 V CURRENT | 21 | 0.71% |
| 31 | Ducati | MULTISTRADA V4 | 20 | 0.68% |
| 32 | Moto-Guzzi | V85 TT | 20 | 0.68% |
| 33 | Suzuki | GSX-S 1000 | 20 | 0.68% |
| 34 | BMW | K 1600 B | 20 | 0.68% |
| 35 | Harley | FAT BOY 114 | 19 | 0.64% |
| 36 | Harley | STREET BOB 114 | 19 | 0.64% |
| 37 | Honda | CRF 300 X | 19 | 0.64% |
| 38 | BMW | S 1000 XR | 19 | 0.64% |
| 39 | Triumph | TRIDENT 660 | 17 | 0.57% |
| 40 | BMW | G 310 R | 17 | 0.57% |
| 41 | Harley | SPORT GLIDE | 16 | 0.54% |
| 42 | Honda | CMX 1100 REBEL | 16 | 0.54% |
| 43 | Ducati | PANIGALE V4 | 15 | 0.51% |
| 44 | Honda | CB 500 X | 15 | 0.51% |
| 45 | Aprilia | RS 660 | 15 | 0.51% |
| 46 | Fantic Motor | CABALLERO 500 | 14 | 0.47% |
| 47 | Harley | FAT BOB 114 | 14 | 0.47% |
| 48 | Harley | LOW RIDER ST | 14 | 0.47% |
| 49 | Husqvarna | 701 ENDURO | 14 | 0.47% |
| 50 | BMW | R 1250 R | 14 | 0.47% |