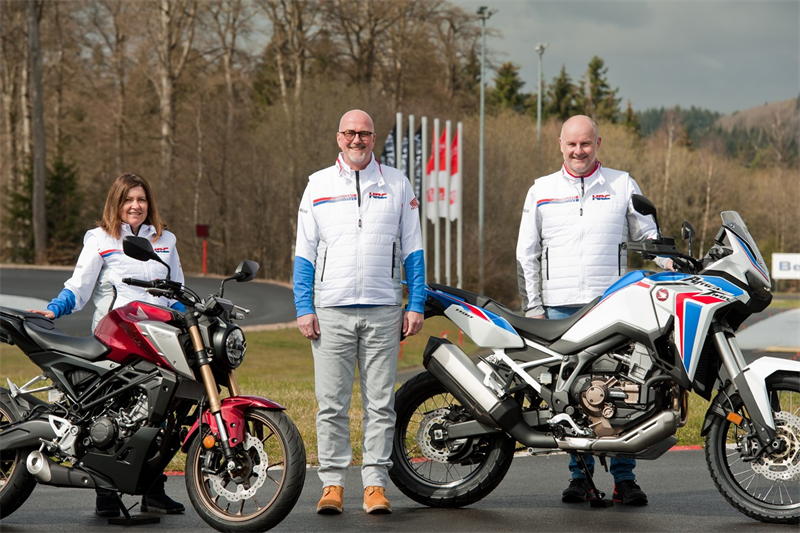 Photo: Honda
Honda Motorrad enters into a comprehensive partnership with the Driving Safety Centre at the Nürburgring.
Above all, it is about offering innovative driving experiences and inspiring people who have been on a motorcycle for a long time or perhaps even never before.
"Of course, we also want to offer something new to the many fans of our brand," says Christopher Schmidt, Manager Marketing and Product Management at Honda Germany responsible for this cooperation, "but above all we want to inspire people who have not yet had any contact with the motorcycle."
Complete package for extending the driving licence to light motorcycles
The timing is favorable, because recently motorists can extend their driving license to light motorcycles with little effort – and without a driving test. "That's where we come in," explains Schmidt, "and offer a complete package together with the Driving Safety Center."
Evelin Reinhardt, responsible for training and events at Honda, adds: "For €990, participants can book an all-inclusive package that not only includes the necessary theory and practical lessons, but also provides the right motorcycles – and that in such an exciting place as the Nürburgring." Thanks to the expertise of the driving safety experts and driving instructors, the participants will then be able to ride a 125cc motorcycle within two days – and at the same time receive the necessary authorization to do so.
Tailor-made driving training
But that's not all: In the future, the new partners will offer further riding experiences that are precisely tailored to the wishes of bikers. In addition to the classic driving safety training in various variants, this includes special training courses such as a "Fun & Safety Enduro" for fans of the Honda Africa Twin, overland trips through the Eifel and – of course – also the opportunity to test the current Honda models.
Testing the current HONDA models
"All participants of our motorcycle training sessions will have the opportunity to test current Honda models," says Ralph Paulus, Managing Director of the Driving Safety Centre at the Nürburgring, "so we can show very well how exciting and safe modern motorcycles are". The current assistance systems with which the Honda motorcycles are equipped play a very important role.
"But of course," adds Paulus, "the Nürburgring is always about driving pleasure – that's why I'm very happy to have found a partner in Honda whose products not only meet the highest quality standards, but are also a lot of fun."
The Partners
Honda Germany
Branch of Honda Motor Europe Ltd.
Hanauer Landstraße 222/224, 60314 Frankfurt am Main
Driving safety centre at the Nürburgring
The Driving Safety Center at the Nürburgring has been active in driving safety for more than 25 years and in 1994 was the first driving safety center in Germany to conduct driving training with modern technology as realistically as possible.
Since then, more than 400,000 participants have participated in driving training, vehicle presentations, workshops, incentive events, seminars and many other tailor-made events.