KTM used all its know-how for electric drives built up over the last ten years and has developed the KTM SX-E 5 with great effort: an extremely competitive, electrically driven minicycle with an output similar to that of a KTM 50 SX. Compared to this, it is extremely low-maintenance and almost silent.
With six power modes, beginners can get started, but in full-power modes even the fastest juniors get their money's worth.
The chassis of the KTM SX-E 5 is often adjustable in terms of seat height and is aimed at drivers between three and ten years of age. For the smallest ones, there is a lowering kit from the KTM PowerParts catalog.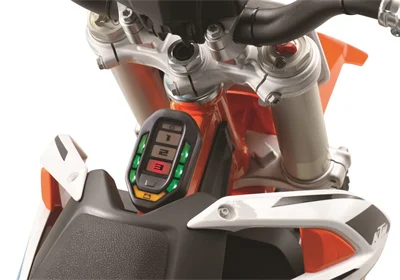 Photo: KTM
The electric motor, which can be up to 5KW thick, is powered by an ultra-modern and compact lithium-ion battery. This is optimally protected by a robust housing, after all, safety was the central premise in the development of this new model. The SX-E5 gives off its power evenly and very controllable, is extremely agile and therefore much easier to ride than other bikes in its class. Like her siblings with internal combustion engines, she is equipped with the WP XACT 35 air suspension fork and the WP XACT strut. Other high-quality components such as the premium disc brake, the conified aluminium handlebar and a steel tube frame with a rear frame made of fiberglass-reinforced plastic make this model a high-tech motorcycle for the champions of tomorrow.
The KTM SX-E 5 was developed based on the same processes as the larger SX models used by the Red Bull KTM factory team in the World Championship. This exciting, safe, innovative yet fully race-ready machine opens up new possibilities for the drivers and tracks of the future.
"The KTM SX-E 5 is one of those models where we can't wait to finally see it at the dealerships. Just like our other SX models, it offers a premium chassis. Thanks to its electric motor, it is very easy to drive, but can still be arrow-fast – and without making noise. We have had this bike tested by many different riders. Even bloody beginners can almost go out of the stand on the race track because it is so easy to drive. And yet even a racer at the national level can set lap times that are in no way inferior to those of comparable bikes with internal combustion engines. That's something very special. Its adaptability also means that drivers can use it for many years as they get bigger and faster. In addition, apart from lubricating the chain, the bike is almost maintenance-free. Our electronics team has put a lot of work into achieving a high level of safety. Together with top performance and its adaptability to the driver, the KTM SX-E 5 is a fantastic new model in the KTM lineup," says Joachim Sauer, KTM Senior Product Manager Offroad.
The e-mobility sector is increasingly becoming an important part of modern transport. At KTM, its own research and development team is working on developments in this segment and creating platforms for KTM's future plans for electrically powered motorcycles. Combined with many years of experience in the development of sports motorcycles, KTM secures a leading role in electrically driven vehicles. KTM stands by its commitment to low-voltage motors with 4 to 18 kW (peak power) and works to always meet the strictest safety standards. The presentation of the KTM SX-E 5 is an exciting new chapter in KTM's e-mobility history.
The new KTM SX-E 5 will be available from the authorized KTM dealers from autumn 2019 at the list price of € 4,995 (including VAT plus additional costs).
For more information,
please visit www.ktm.com/de/mx/sx-e-5/