The end of this year's autumn is very leisurely in some places with mild temperatures. Thus, even the "weather-sensitive" among us can still rewind plenty of kilometers on the motorcycle and scooter. But also this year and at the beginning of the new there will be the phases in which the Institute for Bicycle Safety (ifz) advises to refrain from the motorized two-wheeler, namely when snow, ice and smoothness line the streets and there is a sizzling cold outside. Many motorcyclists will take a break anyway – thanks to seasonal license plates.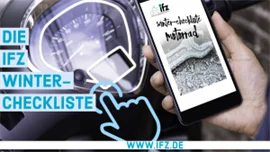 Photo: ifz
By the way, in the case of seasonal registration plates, the following applies:
"Never drive outside the stated insurance period, even to test drives, because there is definitely no insurance cover. Outside the registration period, the motorcycle may not be parked in the public transport area.'
This is one of many tips from the ifz Winter Checklist, the useful tool that we have now integrated as a feature into the ifz app "MOTO" (available free of charge for
Android
and
Apple iOS).
The app offers the practical possibility to check the completed steps of the checklist immediately on the smartphone or tablet.
In terms of content, the winter checklist may seem to be aimed primarily at motorcyclists who are preparing to "soak up" the motorcycle. But the app also makes sense for the hardened all-season drivers, as it helps to carry out the necessary inspections and to think about the upcoming inspections, carry out maintenance work or commission them.
The right care and also the scope of maintenance depend not least on whether the winter is wintering in the garage or on the street. But the checklist also deals with the resulting special features. It thus provides an ideal setting for any kind of hibernation of your motorcycle or scooter.
Certainly, with regard to the manufacturer and model, there are different approaches to mothballing one or the other. The vehicle's user manual can be helpful. You can also seek the advice of specialist retailers and workshops if necessary.
Also on the pages of the ifz you will find numerous tips for the whole motorcycle year, specifically also for motorcycling and scooter riding in winter in our winter special. Freely available at
www.ifz.de
.