Bluetooth 5 and Mesh™ 2.0
The Sena 50 series sets new standards with top technology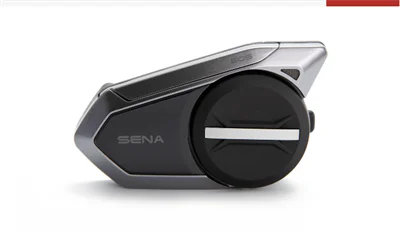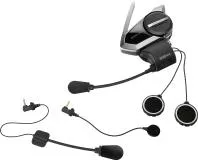 Easier and more reliable than ever

The two new 50S systems with jog dial operation and the more compact sister model 50R with three-button operation set a new standard in motorcycle communication. They combine high Sena quality with a comprehensive update to Bluetooth 5 and MeshTM 2.0. This makes operation easier than ever, because with just one click the connection to the Bluetooth partner or to the mesh network is established. The new technology significantly reduces faults and ensures a particularly reliable connection. Brand-new HD speakers ensure outstanding sound, whether in conversation or listening to music. Also new are access to Google and Apple's digital assistants, voice commands in eight languages, the 30 percent faster charging battery and firmware updates during charging.
The features at a glance:
• Top-modern Bluetooth 5 and Mesh 2.0 technology
• "One-click-to-connect" for the easiest connection
• Three modes: Open Mesh, Group Mesh and Bluetooth Intercom
• Newly developed HD speakers for best comfort and top audio quality
• Multi-channel communication via mesh technology
• Voice control in eight languages
• Access to digital assistants (Hey Google/Hey Siri)
• Battery charges 30 percent faster
• Automatic firmware updates when charging via smart charging cable with Wi-Fi function
With the two models of the new 50 series, Sena is setting a new benchmark in motorcycle communication: thanks to the Bluetooth 5 standard and Mesh 2.0, the devices connect faster and easier than ever via the "one-click-to-connect" system. The flexible and self-optimizing system automatically uses the optimal transmission path, guaranteeing reliable connections and top voice quality. In addition, lost connections with intercom partners are automatically restored. This guarantees communication at the highest level even under the toughest conditions – the Sena 50R has already impressively demonstrated this as the official system at the International BMW GS Trophy 2020.
With Group Mesh, Open Mesh and Bluetooth Intercom, the 50S and 50R offer three different call modes for a wide variety of requirements. Group Mesh creates a private group of up to 24 participants, connected within a radius of up to eight kilometers, while Open Mesh allows even all mesh users in the area to talk to each other. Optionally, up to four users can be connected via the classic four-way Bluetooth intercom.
Brand-new top speakers with HD sound and voice commands in eight languages
Another plus of the 50-series systems are the new HD speakers, which offer a sound experience that has never been experienced before in an intercom system. Not only do they guarantee perfect sound quality in conversation, but they also ensure clear heights and powerful bass when listening to music via a smartphone. Thanks to a bevelled edge, they can also score with a particularly high wearing comfort on the ear. They are optimally complemented by Sena's patented Advanced Noise ControlTM, which filters out disturbing background noise. In addition to type-specific control via jog dial (50S) or buttons (50R), the 50 series can also be operated via voice commands in eight languages, which can be used, for example, to accept a telephone call or start a mesh session. If there is a connection to a smartphone, the digital voice assistants from Apple and Google can also be used for the first time. Of course, both devices can still be controlled via one of the four remote controls on the handlebars.
Just in time for the launch of the new 50 series, a suitable app is also at the launch. With the 50 Utility App, numerous functions can be conveniently set via your smartphone. Also new: To keep the 50 models always up-to-date, they come with a smart WiFi adapter, which also checks the firmware and updates it if necessary during the battery charging process. An important plus – not only on longer tours – is the new battery with fast charging function. In just one hour, the 50 series devices are fully charged. After 20 minutes, 3.5 hours of mesh operation and 6 hours of Bluetooth operation are available.
More information about the 50 series of Sena and its extensive features can be found
here
on the Internet. Both models will be available from the dealership from 21 May 2020. The non-binding retail price of both models is 359 euros, in a double pack 629 euros.
Mesh 2.0 upgrade for 30K, Momentum EVO and + Mesh users
Good news for many Sena users: With a global firmware update on May 1, 2020, Sena has made all current first-generation Mesh Intercom products fit for Mesh 2.0 technology at no additional cost. Now users of the Sena 30K, Momentum EVO and + Mesh models can count on the new features and reliability of the Sena Mesh 2.0 intercom network. In addition, the devices are now ideally prepared to communicate with the new 50 series.