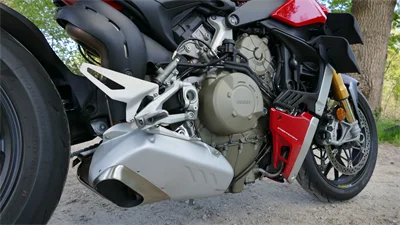 The world is not enough
Do you have neighbours and actually have a very good relationship with them? Forget it, that was yesterday. Okay, our Duc is only Euro 4 certified, but one still wonders how the Italians got the approval for this part. Not only the sheer volume surprises with stand gas, but also the lurking, always somewhat rotten, aggressive sound. A feast for Ducatisti, everyone else calls the police. Before it shows up, let's jet off. No one is surprised that she sounds even more aggressive on the road, rather than how this is going. Apart from what he says, this is an engine that obviously has the finest manners. Among 2,000 tours? Feasible. In the fourth through the city? Clear. The first gear reaches over 100 km/h, but nevertheless you do not have to juggle with gas and clutch when starting up. By the way: As with the Monster 1200 S, the Quickshifter convinces with serene, clean reactions.
Now we have turned off the mandatory program and come to what the Ducati Streetfighter V4S is actually built for. The world is not enough for this bike, a tester put it. And that's true: whatever you can see, it comes at warp speed. Impossible that a motorcycle can be so fast? But, it must be, even if it is hard to imagine. The pure acceleration to 100 is done in a good three seconds. It is not.
What baffling you here is the overall concept. Even if the Duc convinces in everyday life (see above), she still puts at least three on it in combat mode. Under infernal, angry noise, she fights down everything that comes close to her. No matter what speed, the V4 pulls the nearly 200 kilos forward. The whole thing happens without a second of remembrance, all, really all the senses are immediately on attack.
The chassis does an unobtrusive job, which is the best compliment you can do to it. This and the engine are still dwarfed. By whom or what? The Brembo system (Stylema M4.30), which brakes this monster safely, controlled and with all its power at all times. The fact that the system can be perfectly dosed and operated with two fingers certainly does not make things any worse.