New motorcycle registrations November 2022
Royal Enfield: Welcome to the Top 10 !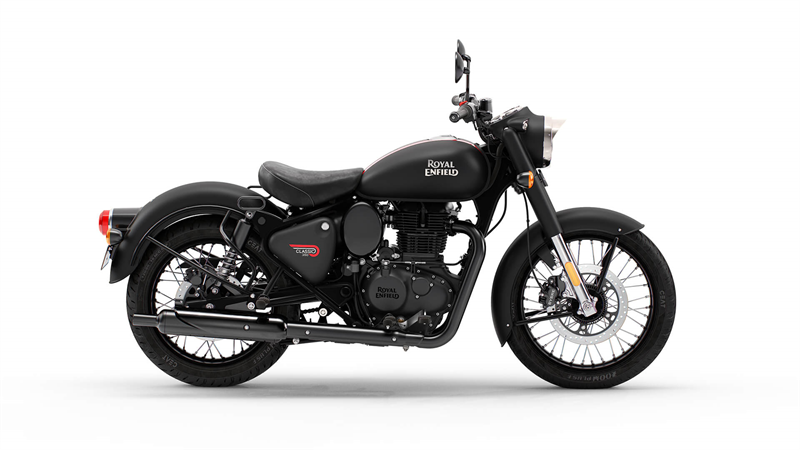 Photo: Royal Enfield
Royal Enfield in the top 10 of new registrations for the first time
The numbers of new registrations for motorcycles in November 2022 are in. According to IVM, a total of almost 4,000 motorcycles were registered. This is 16.9 percent more than in November 2021. In the top 10, Royal Enfield has displaced Suzuki from 10th place. The bestseller was the RE Classic 350.
The fewer motorcycles are sold, the more movement comes into the top 10 in terms of market share. As is well known, fewer and fewer bikes are sold at the end of the year, so the rankings here fluctuate more than in the sales-strong months of March to May. It is striking that the proportion of other manufacturers is rising and rising. In November, the market share of Aprilia, Moto Guzzi, Indian, Benelli & Co. was already over 22 percent - and rising.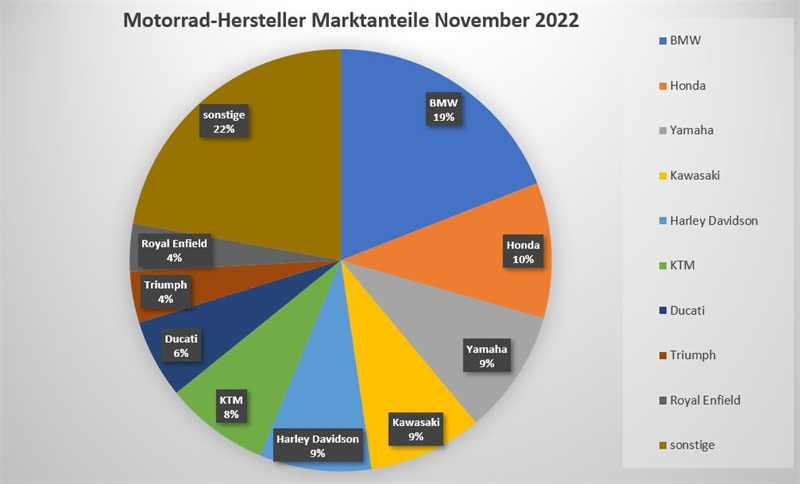 Market shares: registrations are not synonymous with sales
In terms of market share, Honda has again fought for 2nd place behind BMW. This is followed by Yamaha, Kawasaki, Harley Davidson and KTM, whereby KTM has lost significantly in numbers compared to the previous year: a minus of 17.3% is recorded here. All other manufacturers were able to sell more motorcycles in November 2022 than in the previous year - except for Suzuki: Here, the registration figures have collapsed by a whopping 42 percent. However, it should be noted in all these figures that these are not necessarily sales, but new registrations. So it may well be that Suzuki, for example, made a lot of daily registrations last year before the end of the year and not this year.
Top 50 newly registered motorcycles in November 2022
There is a big surprise among the top models: The
Royal Enfield Classic 350 (-> test)
is in a good 11th place. As the figures show, however, a few additional sales are necessary to jump upwards. At the RE Classic in November, for example, there were only 50 newly registered bikes that were sufficient for this good place.
Rank

Manufacturer

Model
Current
Month
Share
Current
Month
1
BMW
R 1250 GS
287
7.25%
2
Kawasaki
Z 900
104
2.63%
3
Yamaha
MT-07
88
2.22%
4
Honda
CMX 500 REBEL
76
1.92%
5
Suzuki
DL 650 V CURRENT
73
1.84%
6
Yamaha
TÉNÉRÉ 700
66
1.67%
7
KTM
390 DUKE
64
1.62%
8
Honda
CRF 1100 AFRICA TWIN
62
1.57%
9
Yamaha
MT-09
61
1.54%
10
Kawasaki
Z 650
51
1.29%
11
Royal Enfield
CLASSIC 350
50
1.26%
12
Yamaha
YZF-R7
50
1.26%
13
Harley-Davidson
LOW RIDER ST
47
1.19%
14
Honda
X-ADV 750
46
1.16%
15
Honda
CBR 650 R
45
1.14%
16
Husqvarna
701 SUPERMOTO
45
1.14%
17
BMW
S 1000 R
45
1.14%
18
Ducati
STREETFIGHTER V2
44
1.11%
19
BMW
Group of unknown models
44
1.11%
20
Harley-Davidson
STREET BOB 114
43
1.09%
21
Harley-Davidson
SPORTSTER S
42
1.06%
22
Yamaha
TRACER 900
42
1.06%
23
KTM
EXC 300
41
1.04%
24
KTM
690 SMC
41
1.04%
25
BMW
F 750 GS
41
1.04%
26
BMW
F 900 R
40
1.01%
27
Moto-Guzzi
V85 TT
37
0.94%
28
Kawasaki
Z 900 RS
36
0.91%
29
Royal Enfield
HIMALAYAN
36
0.91%
30
Honda
CBR 500 R
34
0.86%
31
Honda
CMX 1100 REBEL
33
0.83%
32
Aprilia
RS 660
33
0.83%
33
Ducati
MULTISTRADA V4
32
0.81%
34
Honda
CB 500 F
31
0.78%
35
BMW
R 1250 R
31
0.78%
36
Harley-Davidson
SPORT GLIDE
30
0.76%
37
Indian Motorcycles
SCOUT BOBBER
28
0.71%
38
Royal Enfield
METEOR 350
28
0.71%
39
Triumph
TRIDENT 660
28
0.71%
40
Ducati
DESERT X
27
0.68%
41
Beta engine
RR 300
27
0.68%
42
BMW
S 1000 RR
27
0.68%
43
Kawasaki
NINJA H2 SX
26
0.66%
44
KTM
890 ADVENTURE
26
0.66%
45
Harley-Davidson
FAT BOY 114
25
0.63%
46
Triumph
TIGER 900 RALLY/GT
25
0.63%
47
BMW
R 1250 RS
25
0.63%
48
Kawasaki
VULCAN S
24
0.61%
49
Moto-Guzzi
V7 IV STONE
24
0.61%
50
Ducati
PANIGALE V2
23
0.58%