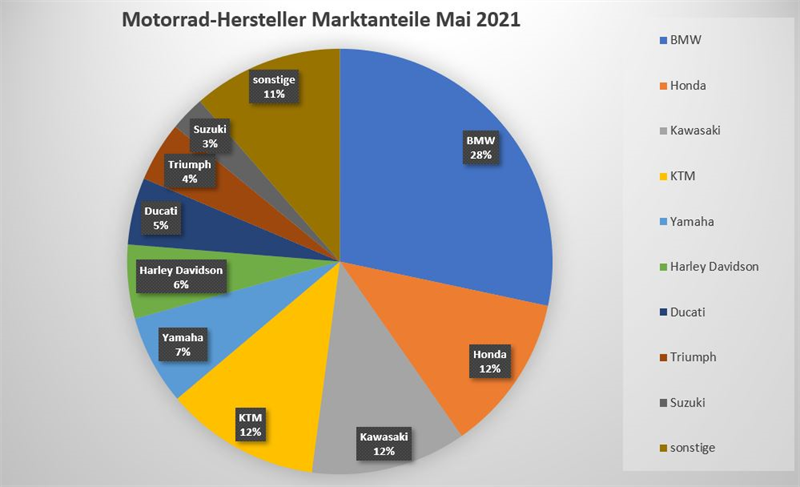 BMW stays ahead, Honda, Kawasaki and KTM level
According to IVM, new registrations of motorcycles (all without 125s and scooters) have to cope with a decline of 6.36 percent in May 2021 compared to the previous year. Cumulatively, it has so far been minus 1.59 percent for the full year 2021 compared to 2020 - virtually unchanged.
Among the manufacturers, BMW remains the measure of all things with a market share of approx. 28 percent. In places 2 to 4, Honda, Kawa and KTM beat each other with almost identical market shares of around 11.6%. Behind it there is a big hole, Yamaha in 5th place so far only comes to a market share of 6.75 percent.
Top 50 models (motorcycles January to May 2021)
Among the best-selling machines, the Honda Africa Twin was able to jump to 4th place. The two F900s from BMW and the two Zs from Kawasaki continue to sell very well. At the top, of course, as always, is the R 1250 GS, this will probably not change in the next 100 years.
| # | Manufacturer | model | quantity |
| --- | --- | --- | --- |
| 1 | BMW | R 1250 GS | 5.501 |
| 2 | Kawasaki | Z 900 | 2.072 |
| 3 | Kawasaki | Z 650 | 1.557 |
| 4 | Honda | CRF 1100 AFRICA TWIN | 1.178 |
| 5 | BMW | F 900 R | 1.135 |
| 6 | KTM | 690 SMC | 1.070 |
| 7 | BMW | S 1000 XR | 972 |
| 8 | BMW | R 18 | 923 |
| 9 | BMW | F 900 XR | 919 |
| 10 | KTM | 390 DUKE | 873 |
| 11 | Yamaha | MT-07 | 864 |
| 12 | Yamaha | Ténéré 700 | 841 |
| 13 | KTM | 890 DUKE | 805 |
| 14 | Honda | CBR 650 R | 776 |
| 15 | Honda | CB 650 R NEO SPORTS CAFE | 748 |
| 16 | BMW | F 750 GS | 715 |
| 17 | Honda | CMX 500 REBEL | 709 |
| 18 | KTM | 1290 SUPER ADVENTURE | 692 |
| 19 | Kawasaki | VULCAN S | 671 |
| 20 | BMW | R 1250 RT | 646 |
| 21 | BMW | S 1000 RR | 632 |
| 22 | BMW | R 1250 R | 615 |
| 23 | KTM | 790 DUKE | 613 |
| 24 | Honda | NC 750X | 601 |
| 25 | Husqvarna | 701 SUPERMOTO | 599 |
| 26 | BMW | R 1250 RS | 590 |
| 27 | Ducati | MULTISTRADA V4 | 523 |
| 28 | Kawasaki | NINJA 650 | 512 |
| 29 | Kawasaki | Z 900 RS | 496 |
| 30 | KTM | 1290 SUPERDUKE R | 489 |
| 31 | Honda | CB 500 F | 486 |
| 32 | Suzuki | TP 650 | 472 |
| 33 | Ducati | Scrambler | 464 |
| 34 | Aprilia | RS 660 | 463 |
| 35 | Yamaha | MT-09 | 460 |
| 36 | triumph | TRIDENT 660 | 450 |
| 37 | BMW | S 1000 R | 433 |
| 38 | Kawasaki | NINJA 1000 SX | 413 |
| 39 | BMW | NINE T | 409 |
| 40 | Ducati | STREETFIGHTER V4 | 388 |
| 41 | Honda | CB 650 R NEO SPORTS CAFE | 386 |
| 42 | KTM | 890 ADVENTURE R | 378 |
| 43 | Yamaha | TRACER 700 | 374 |
| 44 | Harley-Davidson | BREAKOUT 114 | 364 |
| 45 | triumph | TIGER 900 RALLEY/GT | 361 |
| 46 | BMW | F 850 GS | 359 |
| 47 | Moto-Guzzi | V85 TT | 357 |
| 48 | Indian Motorcycle | SCOUT BOBBER | 338 |
| 49 | Harley-Davidson | SPORT GLIDE | 338 |
| 50 | BMW | R NINE T SCRAMBLER | 335 |