"Honda Smartphone Voice Control System" and "Honda RoadSync App" for motorcycles. The free "Honda RoadSync app" has been specially developed for use in conjunction with the "Honda Smartphone Voice Control System" and will be available for download throughout Europe from December 2020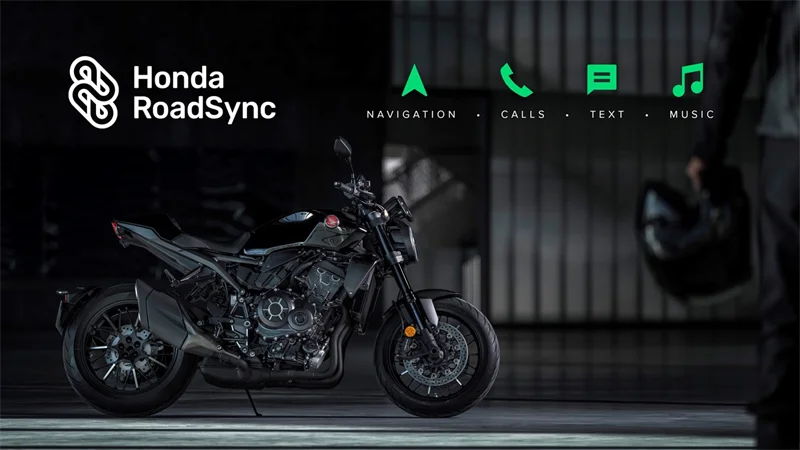 Photos: Honda
"Honda Smartphone Voice Control System" and "Honda RoadSync App" for motorcycles
Honda's new custom connectivity system for motorcycles and scooters provides access to the most widely used features of your Android™ smartphone
The "Honda Smartphone Voice Control System" is standard
available for the 2021 X-ADV, CB1000R and the new Forza 750
The free "Honda RoadSync app" is specifically designed for use in conjunction with the Honda Smartphone Voice Control System
The "Honda RoadSync App" will be available for download throughout Europe from December 2020
Honda Motor Europe presents the new "Honda RoadSync App" for motorcycles:
It interacts tailor-made with Honda's newly developed connectivity system
for motorcycles and scooters, the "Honda Smartphone Voice Control System".
When both systems are combined, the most useful functions for the driver are
Android™ smartphone.
The "Honda Smartphone Voice Control System" is standard in the 2021 models
X-ADV, CB1000R and Forza 750. The system allows the driver to control his smartphone via a Bluetooth® connection to a compatible vehicle. The download of the "Honda RoadSync app", the pairing of the vehicle with a smartphone and the use of a Bluetooth®headset attached to the helmet (with audio input) allows the driver:
Easy navigation to preferred places and local points of interest
Making and receiving phone calls
Receiving and replying to SMS text messages
as well as news from other Messanger
Listen to music via favorite streaming app
Receive up-to-date local weather information and
when using navigation, checking weather data of the destination
All functions of the app are operated by a combination of voice commands and the switch unit on the left side of the handlebars. This allows the driver to store his smartphone safely in a bag and still use it comfortably.
The Honda RoadSync app, developed by Honda, will be phased in across Europe, starting in December 2020, initially in the UK. The remaining EU countries are due to follow in 2021. Honda reserves the right to further develop its technology in the future,
to respond to the changing needs of customers.
More details about the "Honda Smartphone Voice Control" and the "Honda RoadSync App"
see www.honda.co.uk/HondaSmartphoneVoiceControlsystem.
Below are the most important information about the features available in the app:
Navigation
Google Maps forms the basis for the navigation of the "Honda RoadSync App".
The directions are transmitted to the driver via voice output. 5 preset favorite places can be saved. In addition, it is possible to:
set a target by voice command*.
Calls
5 frequently used contacts can be saved, which can be selected by voice search*. In the case of incoming calls, the system transmits the name of the caller to the driver via narrator.
Messages
There are 5 standard quick messages stored that can be converted to personalized messages. The driver can select a contact by voice search* and then send them an SMS message by voice input. Incoming messages are transmitted to the driver via voice over. Supported messenger apps include WhatsApp and Facebook Messenger.
Music
The driver can select a favorite music app (Google Play Music, Spotify, Amazon Music, etc.) in the settings of the "Honda RoadSync App" before they set off on the ride.
Weather
Local weather data can be checked for the next hour, the next 3 hours or the next 5 hours. When using navigation, a detailed prediction for the destination is also available.