Touring tyres Battlax BT 46
Bridgestone adds seven more dimensions to its line-up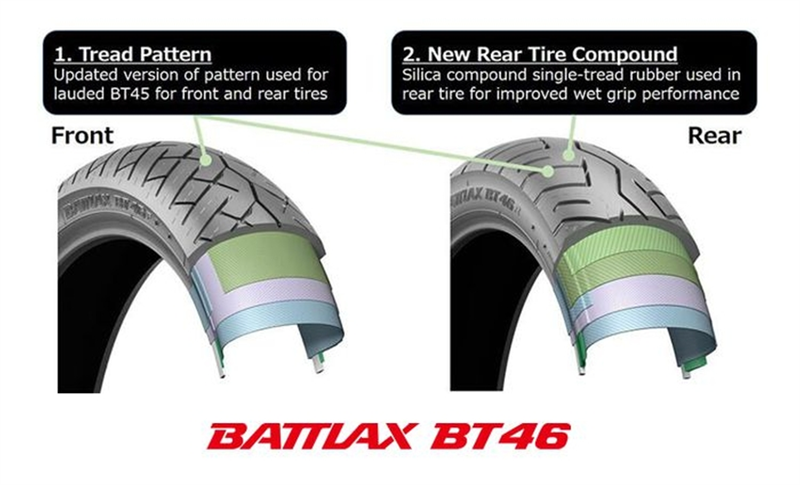 Bridgestone, a leading global supplier of tyres and rubber products as well as safer and more sustainable mobility solutions, has announced the dimension expansion of the Bridgestone Battlax BT 46 and thus also offers an up-to-date tyre option for the majority of older motorcycles and exotics.
For more than twenty years, the Bridgestone Battlax BT 45 was in the price list of the premium tyre manufacturer and thus represents a unique feature in the fast-paced motorcycle world and in the time of the rapid development cycles of the tyre industry. With its successor, the Battlax BT 46, the engineers wanted to go one step further: The use of state-of-the-art technologies enables the diagonal touring tyre to improve handling in the wet and at the same time ensures outstanding dry handling, for which the BT 45 was already known.

After the Battlax BT 46 was presented in 2020 with a renewed tread design, optimized rubber compound and revised construction and was available in the most common sizes, the first dimensional expansions followed last year. With the recent addition of seven new dimensions, the total range of the Battlax BT 46 for the upcoming 2022 season now amounts to over 40 sizes.

"We would like to continue to support motorcycle fans with a broad Battlax portfolio and are therefore very pleased to be able to make the Battlax BT 46 with further dimensions available to an even wider range of classic car enthusiasts," says Wolfgang Terfloth, Head of Sales Motorcycle Tyres Bridgestone Central Europe. "Thus, the current line-up of the diagonal touring tire offers a tire option even for older vehicles and almost completely expands the range for classic machines."

The new dimensions of the Bridgestone Battlax BT 46 for the 2022 season:

Front wheel:


110/80-17 MC 57V
110/90-18 MC 61V
100/90-19 MC 57H
90/90-21 MC 54H


Rear wheel


130/90-16 MC 67V
150/70-17 MC 69V
140/70-18 MC 67V